Información básica
Polvo de extracto de ruibarbo orgánico Natural
Product Name
Rhubarb Extract Powder
Latin Name
Radix et Rhizoma Rhei L.
Part of Used
Root
Main Ingredient
Emodin
Specification
Emodin 50%~98%
Particle Size
100% pass 80 mesh
Specification
5:1 10:1
Appearance
Dark brown powder
Grade
Pharmaceutical and food
Description
Rhubarb Extract Powder has an illustrious history of inclusion in many laxative preparations. Rhubarb is generally considered a mild laxative that produces a soft stool 6-10 hours after ingestion. Rhubarb is especially well suited for children since it is very mild in action. Rhubarb root has a purgative action for use in the treatment of constipation, but also has an astringent effect too. Rhubarb, therefore, has a truly cleansing action upon the gut, removing debris and then astringing with antiseptic properties as well. The primary chemical constituents of rhubarb include anthraquinones,that contribute to the laxative and purgative properties of Rhubarb Chinese research is investigating Rhubarb's ability to possibly inhibit cancer cells.
Function:

- Rhubarb Extract Powder has effect on improving digestion and increasing the appetite.

- Rhubarb Extract Powder t has the function of antioxidation,delaying aging, preventing osteoporosis, acne(whelk) and dementia in the elderly.

- Rhubarb Extract Powder has function of anti tumor activity and antibacterial activity also have immunosuppression, cathartic and anti-inflammatory effection.

- Rhubarb Extract Powder has function of lowering cholesterin and the blood viscosity, reducing the risk of arteriosclerosis, cardio-cerebrovascular disease and heart disease.

- Rhubarb Extract Powder can be used for preventing cancer, especially breast cancer,prostate cancer,endometrial cancer and ovarycancer,due to its estrogen role.

- Rhubarb Extract Powder is used for helping heal ulcers, alleviate disorders of the spleen and colon, relieve constipation and help heal hemorrhoids and bleeding in the upper digestive tract.

Application

-Applied in comestics, rhubarb extract can delay aging and prevent UV radiation

-Applied in food field, rhubarb extract is used as food additive with the function of lengthening life.

-Applied in pharmaceutical field, rhubarb extract is frequently used as medicine supplement or OTCS ingredients and owns good efficacy for treatment of cancer and cardio-cerebrovascular disease.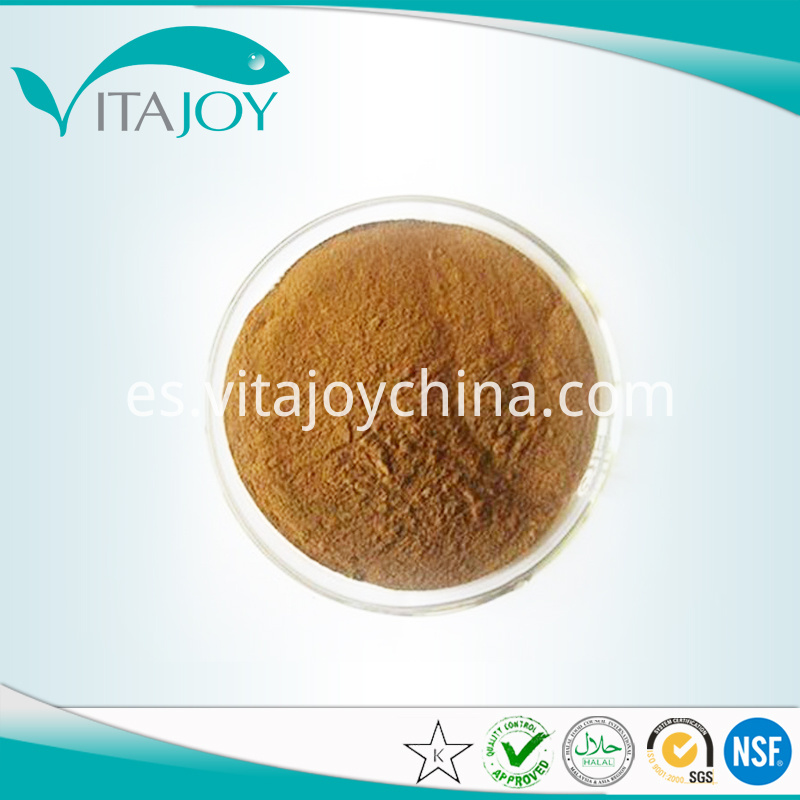 Función principal
1. anti-bacteriano y antihongos
2. protección del hígado y desintoxicación
3. antioxidante
4. caducidad de la
5. regulación inmune
6. prevención y tratamiento de la enfermedad de las grasas de la sangre alta
7. disipa una fiebre y la inflamación de la
Información de la empresa
Vitajoy, un proveedor líder de extractos de hierbas, aminoácidos y suplementos nutricionales, comienza nuestro negocio en China y negocio con ocho oficinas en el extranjero todo el mundo. Vitajoy es fortalecer la extensión y alcance de nuestra capacidad de abastecimiento, no sólo en China, sino también en otras regiones. Vitajoy está construyendo una red de abastecimiento global para proporcionar constantemente emocionante nueva prima salud, productos terminados, productos químicos de especialidad y ideas innovadoras a nuestros clientes.
PRODUCTOS POR GRUPO : Súper alimento orgánico